ECO TASK LAMP
Sustainable, energy efficient task lighting.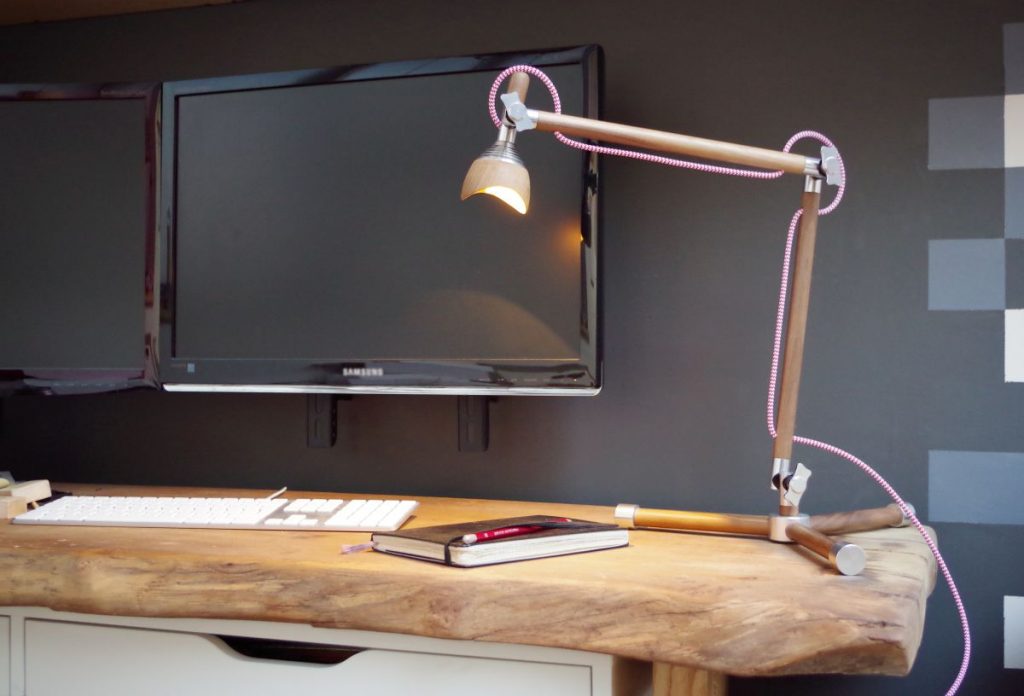 ECO DESK LAMP
CLIENT: OWN DESIGN
TIMESCALE: 2 MONTHS
BRIEF: AESTHETIC AND MECHANICAL DESIGN FOR A PROFESSIONAL AUDIO POWER AMPLIFIER.
The ECO DESK task lamp was designed to showcase just what can be achieved by combining local UK manufacturing, sustainable materials and energy efficient technology with great design and engineering.
It's designed and built to last a lifetime while also saving energy and the environment. It offers one of the most sustainable and environmentally responsible forms of lighting available, incorporating an extremely efficient CREE LED array & sustainably sourced hardwood frame.
The ECO lamp incorporates a highly efficient 'natural' or 'warm' white ultra-bright LED array featuring inline rotary and dimming control. The 80% recycled and fully recyclable aluminium heatsinks combine efficient thermal performance with sculptural aesthetic. Hand turned sustainable hardwood shades* are naturally finished in our own secret recipe beeswax.
The LUMINAIR ECO DESK lamp uses wood only from sustainably managed forests which means the more wood we use the more the forests grow as more trees are planted than harvested. Good news in the fight against Global Warming, as the more forests grow, the more Carbon Dioxide is sucked out of the atmosphere and the more oxygen is produced. Using wood in place of less environmentally friendly materials ensures the carbon sink effect of forests is put to good use, rather than being lost through natural death and decay.